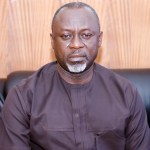 Mr. James B. Bisong is the Director Operational Hydrology Department of the Agency. He is a graduate of Geology, University of Calabar. He began his professional career at the Cross River State Ministry of Water Resources and later as Hydrogeologist II at the Federal Ministry of Water Resources in the erstwhile Department of Hydrology and Hydrogeology in 1991.
Mr. Bisong has several professional certification in Hydrogeology, Climate Application, ICT etc. He is a member of the Nigeria Association of Hydrogeologist (MNMGS), He was a pionner Government Council member of the Council of Nigeria Mining Engineers and Geoscientist (COMEG) FROM 2000 – 2004.
Mr. Bisong's Hobbies are trekking music, movies, gadget, Artificial Intelligence (AI) and is also a Futurist. He is a happy family man.