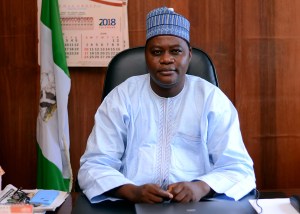 Stephen Margima Jabo is the Head of the Department of Hydrogeophysics. He was educated at the Government Science Secondary School Waka-Biu, Borno State where he obtained his WASC in 1985. He attended the School of Basic Studies, Ahmadu Bello University, Zaria and obtained his IJMB certificate in 1986. He proceeded to the University of Jos in 1986 and obtained B.Sc (Hons) Degree in Geology and Mining in 1989 where he emerged as the best graduating geosciences student. He also attended Changchun University of Science and Technology, PR. China from 1996-1999 and obtained a Master of Science (M.Sc.) Degree in Seismic Exploration.
Mr. S.M. Jabo was a Shell Petroleum Development Company of Nigeria scholar from 1987 – 1989 as well as University of Jos scholar from 1988 – 1989.
He started his working career as a Graduate Assistant with the Department of Geology and Mining, University of Jos immediately after completing his National Youth Service Corp (NYSC) at the Department of Geology, Obafemi Awolowo University, Ile Ife in 1990.
He was later employed by the Federal Civil Service Commission as Hydrogeologist II in 1991and posted to the Federal Ministry of Water Resources, Abuja where he has built up a career spanning a period of close to 22 years and rose to the rank of a Deputy Director.  He transferred his service to the Nigeria Hydrological Services Agency (NIHSA) in 2008. He has professional experience in Groundwater Hydrology, Water Resources Assessment and Management, Environment and Project Planning. He also served as the Head of Procurement Unit of the Agency from 2008 – 2015.
He has attended a number of short courses with certificate of merit in the following areas:
Total Quality Management Course
International Course on Groundwater Hydrology
GEF/UNDP Assisted Project- Managing Hydrogeological Risk in the Iullemeden Aquifer System-Mathematical Modeling Training in Tunis, Tunisia.
Modern Geophysical Techniques and Data processing
Ground water modeling
Groundwater resource Development and management for African countries
Anti-Corruption and NEEDS Agenda amongst others.
He has held several positions in the Federal Ministry of Water Resources within the various part of the country. He is a member of several Professional Associations which includes; Nigeria Mining and Geosciences Society (NMGS), Nigeria Association of Hydrogeologists (NAH) and Nigerian Association of Hydrological Sciences (NAHS). He is happily married.