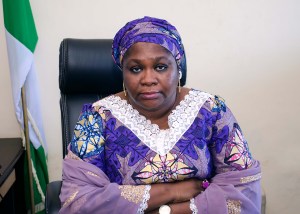 Mrs. Aishatu Tani Ibrahim
Mrs. AishatuTani Ibrahim is the Director, Engineering Hydrology Nigeria Hydrological Services Agency (NIHSA). She has a B.Sc (Hons) in Geology and Mining from 1983 – 1987 at the University of Jos, Plateau State. Mrs. Ibrahim started her working Career as a Hydrogeologist in 1989, with the Federal Ministry of Water Resources, Department of Hydrology and Hydrogeology (H&H).
During the course of her career she attended several training courses amongst which are:
Certificate in Hydrology at International Water Resources Institute, Vituki Budapest (1992).
Post Graduate Diploma in Groundwater Resource Survey International Institute for Aerospace Survey (ITC), Enscheda Netherland (1994).
Certificate in Operational Hydrology from Swedish Meteorological & Hydrological Institute (SMHI) Norrkoping Sweden (September 2001).
Post graduate Certificate in Sediment Transport Technology from Directorate of state hydraulic work, Ankara, Turkey (2003).
Certificate of Attendance in Innovation Application of Remote Sensing at International Institute for Geo-informatics Science& Earth Observation National Authority for Remote Sensing and Space Science, NARSS, Cairo Egypt (2006).
She has served in different capacities such as Head of Hydrology Unit of the HadejiaJama'are River Basin Development Authority (HJRBDA), Kano, Head of Procurement Unit, HJRBDA, Kano, Acting Director Operational Hydrology at NIHSA and now the Director Engineering Hydrology. Mrs. AishatuTani Ibrahim is married with 3 kids. She enjoys out door games, reading and traveling.