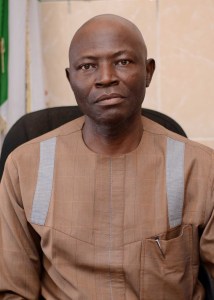 Ibrahim Adamu, the head of Department of Hydrogeoinformatics, had his early education at Kufena College Wusasa Zaria formerly St. Paul's college Zaria where he obtained his GCE in 1981.
He proceeded to Ahmadu Bello University, Zaria in 1982 where he obtaind his B.Sc Degree in Geology in 1985. He furthered his education at Ahmadu Bello University, Zaria where he obtained his M.Sc degree in Geology in 1991.
He was employed as hydrogeologist GD1 in 1991 by the Federal Civil Service Commission in the Federal Ministry of Water Resources, Abuja. He served variously at Sokoto Zonal Office up to 1997 and seconded to upper Niger River Basin Authority where he served until deseconded in 2009 to head the Zonal Office of NIHSA in Sokoto. He rose to the rank of Deputy Director in 2012. Mr Adamu has also worked at various postings and assignments during the course of his carrier, such as Head of TubeWell drilling Team (1998-2000) using an indigenous fabricated TubeWell kit at upper Niger river Basin, Minna with which he was able to drill over 200 Tubewells. He also headed one of the drilling teams and supervised a good number of borehole drilling jobs as part of the constituency projects of the National Assembly in Kaduna, Niger, FCT, Kebbi, Sokoto, Zamfara and Katsina States.
He has also attended several courses and workshops in several areas including:
1.Borehole drilling and maintainance(1992)
2.Geochemical sampling, water quality and analysis(1993)
3. Computer Operations and Applications(2007)
Mr. Adamu belongs to several professional  bodies including the Nigerian Mining and Geosciences Society(NMGS), Nigerian Association of Hydrogeologists (NAH) and  Nigerian Association of Hydrological Sciences (NAHS).
He is happily married.