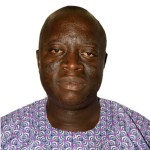 AZAKI JOSIAH CHESNA'AYILO
Mr. Azaki C. Josiah is the head of the Internal Audit of NIHSA. He hails from Ugya-Hogumba, Toto Local Government Area of Nassarawa State, Nigeria. He acquired his first school leaving certificate from Central Primary School, Ugya in 1981. He attended Government Secondary School Shafan, Abakpa in 1986 and went on to study at Plateau School of Accounting, Jos in 1997. He is a graduate of Nassarawa Polytechnic (2007) and has been trained at ANAN, Jos in 2009 to become a Certified National Accountant (CNA).
Mr. Azaki was first employed by Police Affairs Office on 6th of April, 1990 as an Auditor. He was later transferred to Federal Pay Office, Lafia, in 2009 and is presently with the Internal Audit of NIHSA.
He is married with seven children.